JESUITS GROUPS
This section lists groups of Jesuits specialized in Ecumenical and Interreligious Relations in the world. Our Secretariat willl make available in PDF format, for consultation, the material produced during the meetings of some of them, from 1997 to 2008, when the 'Secretariat for Interreligious Dialogue' of the Curia was active and organized these meetings.
"Jesuits Ecumenists" (JesEcum)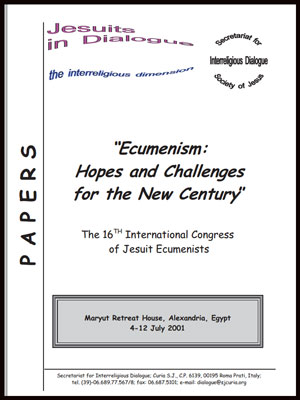 Acta/Papers JesEcum
The Congress of Jesuit Ecumenists (JesEcum) began life in the late 1960s as a result of Vatican II. The aim was to bring Jesuits together who were involved in contact, or formal dialogue, with other Christian Churches and ecclesia groups. The Congress consisted of Jesuits reading papers on various aspects of Ecumenism, after which questions and discussions ensued. In addition, there has always been an element of informal reporting of what members were doing to advance the cause of Christian Unity, and an opportunity to meeting other Christians in the various places where the meetings take place. In its initial years the Congress received great encouragement from Fr Arrupe
and its bi-annual meetings were well attended. This remained the case up until the end of the 1980s, at Oxford in 1985, for example, there were almost 100 participants. Since the 1990s participation has declined and the meetings on average attract between 25-30 participants. There is a small committee which at present consists of: Dorian Llywelyn (President); Markus Schmidt (Secretary); Randy Sachs (Treasurer) and Bob Daly."
Markus Schmidt (President)
Thomas Layden (Secretary)
WEB: http://jesecum.net/
"Jesuits among Muslims" (JAM)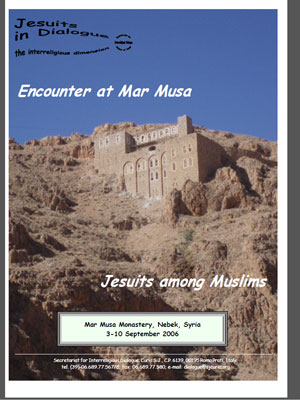 Acta/Papers JAM
JAM brings together both Jesuits who are specialists in Islamic studies or in Muslim-Christian Relations, and Jesuits pastors, social activists, educations-the ordained and non-ordained-whose apostolates bring them into close and regular contact with Muslims. JAM has come about because these Jesuits wish to deepen and enrich their reflections, get additional information and learn from the experiences of others, Whether one is a specialist in some field of Islamic Studies, or busy in pastoral work, of the formation of young Jesuits in a country shaped by Muslims and their Islam, members of JAM feel the need to get to know one another, and to learn about the perspectives of other Jesuits working in the field. When a full history of the work of Jesuits among Muslims is compiled, two names are certain to stand out: that of Fr. Ary Roest Crolloius and that of Fr. Thomas Michel.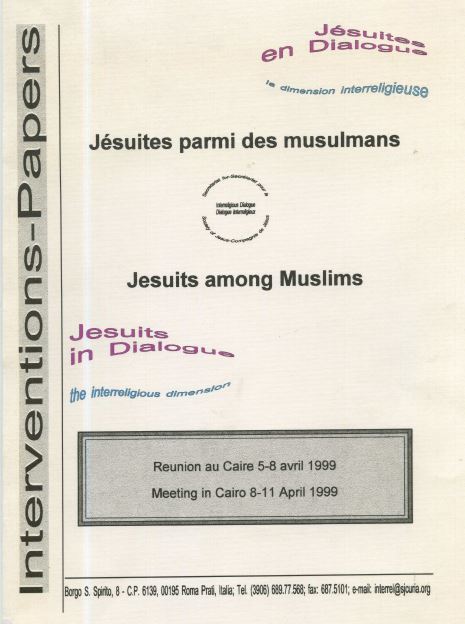 Jesuits among Muslims - Cairo, Egypt - 1999