The Social Justice and Ecology Secretariat of the Jesuit Curia in Rome
Welcome

To build bridges between the rich and the poor, and establish advocacy links... (GC 35, # 3.28)

South Asian Conference Social Coordinators 2012

Let us be protectors of creation, protectors of God's plan inscribed in nature (Pope Francis, 2013)

'Friends of the Lord' means 'Friends with the poor'(GC 34, # 2.9)

Move beyond doubts and indifference to take responsibility for our home, the Earth (GC 35, # 3.31)

To respond today to pressing needs of our complex and fragile world, many hands are surely needed (GC 35, # 6.30)

To discover new horizons and to reach new social, cultural and religious frontiers... (GC 35, # 1.6)

Asia Pacific Conference Social Apostolate gathering 2013

Love of God which does not issue in justice for others is a farce (Pedro Arrupe SJ, 1973)
Narratives
Crossing Borders with Hope
Jenny Cafiso, (CJI-Canada)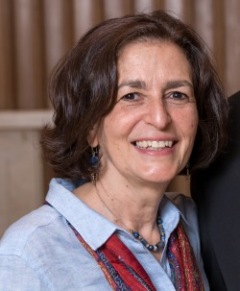 As I write this, over 7,000 Honduran migrants including children have crossed the Guatemalan and Mexican borders and are marching toward the United States border. Some, including the President of the US, are describing them as murderers, rapists, "very bad criminals". Helicopters are hovering over them, the border patrol and the military have been alerted, ready to act. There are calls to close the border.
While some migrants have turned back, most are staying the course. Jose Mejia, 42, a father of four from the Honduran city of San Pedro Sula, was quoted as saying, "We are going to sleep here in the street, because we have nothing else".
I was in the same city of San Pedro...


>>>
More Narratives
News
Father General announces the Universal Apostolic Preferences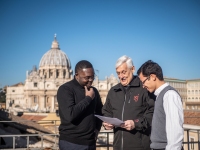 This Tuesday, February 19 at noon, Fr. Arturo Sosa, Superior General of the Society of Jesus, announced the results of two years of common discernment to determine "Universal Apostolic Preferences". The four preferences are: 1) Promotin... >>>
Global - Justice in Mining network in Solidarity with Brumadinho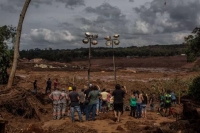 GIAN - Justice in Mining (JiM) Network joined hands with Churches and Mining Network to express its solidarity with the victims and local communities in Brumadinho, Brazil. On Jan... >>>
USA - Pope Francis Centre Responds to Extreme winter weather in Detroit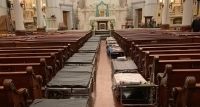 The Pope Francis Center in Detroit, a ministry of the Midwest Jesuit province, responded to needs of those experiencing homelessness during the extreme winter weather. In coll... >>>
More News