FROM THE PROVINCES
BRITAIN: Heythrop Collection of over 250,000 titles to be listed online
Heythrop College will close at the end of the academic year 2017-2018, Friday 31 August 2018. The collection of over 250,000 volumes of books and bound volumes of periodicals, widely regarded as one of the finest collections of theology and philosophy in the UK, will continue to be made accessible onsite - many discoverable online for the first time - to readers through Senate House Library from October 2018. Read more...
BRITAIN: Jesuits announce major new research institute at Campion Hall
The Jesuits in Britain have announced that a new research institute called the Laudato Si' Institute (LSI) is being established at Campion Hall, the Jesuit permanent private hall of the University of Oxford. The LSI will be established during the academic year 2018-2019 and will formally open in September 2019. The aim of the Laudato Si' Institute is to foster interdisciplinary research arising out of the intellectual challenges presented most vividly in Pope Francis' encyclical letter Laudato Si', while being faithful to Ignatian traditions and reflective practice. Read more...
KENYA: The International Jungmann Society meets in Nairobi
The International Jungmann Society for Jesuits and Liturgy held its biannual congress at the Jesuit Mwangaza Spiritual Centre in Nairobi, Kenya, from 25 to 30 June 2018. The congress addressed the link between liturgy and popular devotions. Read more...
PHILIPPINES: Ecojesuit urges Jesuits and friends to invest in creation
Ecology and Jesuits in Communication (Ecojesuit) is urging Jesuit institutions to commit to making ethical investments. Divestment is one strategy that "can give the social apostolate a critical focus and a greater ability to enable others, including the Church, to participate in being the occasion for change," says Fr Pedro Walpole SJ, Coordinator of the global Jesuit network for Ecology. Read more...
SPAIN: International Association of Jesuit Universities
Jesuits and lay colleagues from around the world will gather in Bilbao, Spain, from 8 - 12 July 2018 for a meeting of the International Association of Jesuit Universities. In a welcome message, Fr Michael Garanzini, the Jesuits' Secretary for Higher Education says, "Our theme, 'Transforming Our World Together,' is meant to be both an aspiration and an inspiration. With all the good that we as Jesuit universities and academic programs are doing, could we not do even more if we work together to build a more just and sustainable world, and promote healing and reconciliation in our local and regional communities?"
For more details:  http://iaju.deusto.es/
To subscribe to the newsletter of the meeting at: http://iaju.deusto.es/newsletter/
APPOINTMENTS
Pope Francis has created two Jesuit Cardinals:
- Cardinal Luis Ladaria (Prefect of the Congregation for the Doctrine of the Faith). Cardinal Ladaria was born in 1944, entered the Society in 1966, and was ordained in 1973.
- Cardinal Pedro Ricardo Barreto Jimeno (Archbishop of Huancayo, Peru). Cardinal Barreto was born in 1944, entered the Society in 1961, and was ordained in 1971.
Pope Francis has appointed:
- Mons. Felix Toppo (JAM) as Archbishop of Ranchi. Mons Toppo was born in 1947, entered the Society in 1968, and was ordained in 1982. He was appointed the bishop of Jamshedpur in 1997. He will take over as archbishop from Cardinal Telesphore Toppo who recently reached retirement age.
---
Servizio Digitale d'Informazione SJ - Ufficio Stampa e Informazione
P. Patrick Mulemi SJ
Borgo S. Spirito 4 | 00193 Roma Italia
Tel: +39-06-6986-8289 | infosj-dir@sjcuria.org
---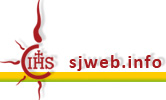 Visit the website of the Jesuit Curia in Rome: www.sjweb.info
If you do not wish to receive more news from the Jesuit Curia, send an email with the subject "Unsubscribe"
Jesuit Press and Information Office
Borgo S. Spirito 4 | 00193 Roma Italy
Tel: +39-06-6986-8289 | infosj-dir@sjcuria.org
Copyright © 2012 - Society of Jesus