Fr Sosa visits medical center and Catholic University in Rio de Janeiro
(19-Oct-2017)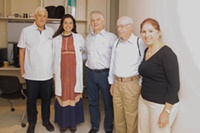 Father General Arturo Sosa visited the Ambulatório São Luiz Gonzaga, a medical clinic located next to Saint Ignatius College. It is a health care centre that offers a wide variety of free medical examinations to the poor population of the city. The association alumni of Saint Ignatius College runs the outpatient clinic of the centre. Fifty-two medical personnel offer their services to more than 80 thousand people a year at Ambulatório São Luiz Gonzaga.
After visiting the clinic, Father Sosa visited the Curia of the Brazilian Province for a brief visit. Later in the afternoon, Father General visited the Pontifical Catholic University of Rio de Janeiro. The university was founded by Jesuit Father Leonel Franca, with a group of Catholic intellectuals 77 years ago on behalf of the Archdiocese of Rio de Janeiro. Since its foundation, the university has been entrusted to the care of the Society of Jesus. The Pontifical Catholic University of Rio de Janeiro has a student population of 25,000 and has recently been ranked among the top 10 Latin American universities.
After visiting the campus, Father General had a meeting with the university's governing body, after which he delivered a lecture to professors and students whose theme was "A university called to contribute with academic excellence in the mission of reconciliation and justice."
At the conclusion of the lecture, the Rector presented Father General with the "Dom Helder Camara" medal. The day ended with the celebration of the Eucharist in the university chapel. Members of the academic community, members of CLC, diocesan clergy and several friends of the Society participated in the Eucharist.
El Padre General ha comenzado su visita a Brasil
(18-Oct-2017)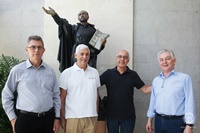 El padre General, Arturo Sosa, llegó a Rio de Janeiro el lunes 16 de octubre para visitar la provincia de Brasil y asistir al Congreso de Educación Primaria y Secundaria (JESEDU-Rio 2017). El martes 17 de octubre visitó el Colegio San Ignacio, una de las 17 instituciones que forman parte de la Red Educacional Jesuita (RJE) de Brasil. El Colegio San Ignacio tiene 100 años de existencia y cuenta con cerca de 3.000 alumnos en la ciudad de Rio de Janeiro.
El padre Claudio Paul, Asistente General y Asistente Regional para América Latina Meridional acompaña al padre General en este viaje a Brasil.
Jesuit Pre-Secondary and Secondary Education meeting – Rio de Janeiro
(16-Oct-2017)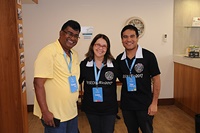 More than 100 Jesuits and lay collaborators from Jesuit schools and education networks around the world have gathered in Rio de Janeiro, Brazil, for a congress on Jesuit education. The meeting will run from Monday, October 16th, to Friday, October 20th. According to a statement from JESEDU-Rio2017, "the participants will be working with the goal of establishing a common agenda as a global network of Jesuit education delegates, in which they will specify the challenges, priorities and responsibilities in order to guide Jesuit networking in secondary and pre-secondary education." Fr. General Arturo Sosa is expected to join the meeting later in the week. Read more...
Brief News Archives