I admire Fr. General's decision to consult the entire Society
(18-Sep-2018)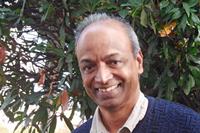 At the end of the Consiglio allargato
Father General's Extended Council met in early September. The presidents of the Jesuit Conferences, which on a geographical basis bring together the Jesuit Provinces of the whole world, participate in this body. We asked three questions of each of the presidents; here are their testimonies.
George Pattery – South Asia (JCSA)
In your service as JCSA President, what has been, up to now, your main source of "consolation" or of joy?
The wide spread acceptance and practice of spiritual conversation as a significant tool for discernment in common gives me immense joy. It is making a difference in our meetings of commissions and in community life. Everyone is heard and given significance. Everyone is speaking. In the process, community life gets a new meaning. We learn to discover the interior movements within each one and in the group as a whole. Besides, this tool can be easily adapted to our board meetings and discussions in the commissions. Spiritual conversation is giving us a sense of walking with the Spirit.
In the context of your Conference, what are the main challenges you will be facing during the coming months?
The main challenges can be divided into two parts: ad extra and ad intra.
Ad extra: the growing fundamentalism, narrow nationalism and hate campaign that is being promoted by the present regime in India, is a matter of great concern and challenge. The minorities, especially the Muslims, feel alienated. This is not good for the country. As a Conference, we circulated a statement interrogating the ideology of a Hindu nation and we are engaged in on-going study and reflection. This movement is potentially a divisive force that can rupture the social fabric.
Ad intra: As a Conference, we are still struggling to include all the countries of South Asia in our apostolic planning. Our concern is still predominantly centred on India. Secondly, as a Conference we are still expanding and building institutions without a definite apostolic plan. I do hope that once UAP (universal apostolic preferences) are finalized, we will be able to give better focus. Thirdly, again at the level of the Conference, we have to invest our energy in forming a team of lay collaborators.
What will you mainly remember from your participation to Father General's Consiglio allargato, in relation to the process toward the definition of Universal Apostolic Preferences?
The process that we went through and are going through in arriving at UAP is very satisfying. It gives me immense sense of consolation; in these extended consultations, we have been refining our approach; it has been a learning process. Secondly, I admire the decision that Fr. General took to consult the entire Society on UAP. This gives every Jesuit a chance to be part of this process, with a greater sense of universal body for universal mission. There is a sense of moving together as a body with a definite plan.
Ireland - Half an hour with Pope Francis
(13-Sep-2018)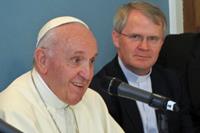 On Saturday, August 25, during his stay in Ireland, Pope Francis dedicated a few minutes of his busy schedule to meet with his Jesuit companions of the Province of Ireland. Afterwards, Fr Leonard Moloney, provincial, wrote his impressions to Father General.
What struck him was that the Holy Father first apologized for having so little time to spend with the Jesuit group. He had chosen to give longer time, than expected, to meet with victims of abuses committed by clerics. In the presence of the Jesuits, his humanity, his humility, his delight, his ease at being with them were tangible.
We can summarize in this way what the Pope said he expected from the Irish Jesuits:
a) To do what they can to help the Irish Church to heal from the awful crisis of clerical sexual abuse, to seek reparation and to give life back to so many people;
and then,
b) To examine their ways of being and proceeding to see how they might better encourage young men to join the Province of Ireland. To this end, he proposed to stress the centrality of the joy of the Gospel and the person of Jesus Christ.
The Pope was also highly critical of clericalism and any form of authoritarianism that might accompany that. He also encouraged his brothers in the priesthood to have a most merciful and pastoral approach to the hearing of confessions, condemning any tendency to 'judgmentalism' and prioritizing the presentation of a merciful and loving face of God.
Father Moloney, in his evocation of this unique meeting, underlined how happy Pope Francis had appeared in the presence of his companions and that his ease increased as the meeting evolved. At the request of the Holy Father who, once again, asked to pray for him, all recited a Hail Mary. The Pope then had to leave the room, not without having greeted more personally those in wheelchairs.
In short, Father Provincial concludes, it has been a wonderful opportunity for the Province of Ireland, a real privilege, even if the context of suffering and anger of the victims of abuse and of so many Irish people necessarily weighed on the climate of the day.
A detailed report of the meeting, prepared in four languages, is available from La Civiltà Cattolica: www.laciviltacattolica.it/
At the source of Pope Francis' serenity
(13-Sep-2018)
During his recent trip to Ireland, Pope Francis had a meeting with several Jesuits of the Irish Province. One of his Jesuit companions asked him: "Holy Father, how do you manage to keep your heart happy with all that is happening to you?" The Pope, after a good moment of reflection, replied that it was undoubtedly a grace from the Lord. But he added that, on a daily basis, for about forty years, he had been saying a prayer of Saint Thomas More and that this helped him a lot.
Here is this prayer, source of serenity and strength for our universal pastor:
Grant me, O Lord, good digestion,
and also something to digest.
Grant me a healthy body,
and the necessary good humour to maintain it.
Grant me a simple soul
that knows to treasure all that is good
and that doesn't frighten easily at the sight of evil,
but rather finds the means to put things back in their place.
Give me a soul that knows not boredom, grumblings, sighs and laments,
nor excess of stress, because of that obstructing thing called "I."
Grant me, O Lord, a sense of good humour.
Allow me the grace to be able to take a joke to discover in life a bit of joy,
and to be able to share it with others.
Amen
Brief News Archives