International Congress for Jesuit Education Delegates Jesedu-Rio 2017
(06-Nov-2017)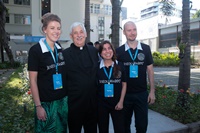 Full Text of Father General Arturo Sosa's speech on
Jesuit Education: Forming Human Beings in Harmony with their Fellows, with Creation and with God.
Indonesian state university honours Jesuit Father Franz Magnis-Suseno, SJ
(24-Oct-2017)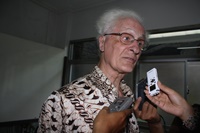 One of Indonesia's oldest universities has honoured a German-born Jesuit, Father Franz Magnis-Suseno, for his "huge contribution" to the study of philosophy in the country. The state-run Gadjah Mada University in Yogyakarta, presented the priest with the award on Oct. 21 as part of celebrations to mark the philosophy faculty's 50th anniversary.
"This award is given to recognize and to honour Father Magnis-Suseno's dedication, contribution and positive influence on the introduction and development of the study of philosophy," dean of the university's philosophy faculty Arqom Kuswanjono said.
Father Magnis-Suseno, 81, has written 39 books and about 600 articles mainly on ethics, philosophy and Indonesian culture. One of his books is Etika Jawa: Sebuah Analisa Falsafi tentang Kebijaksanaan Hidup Jawa (Javanese Ethics: An Analysis of the Javanese Philosophy of Life).
He is an emeritus professor at the Jesuit-run Driyarkara School of Philosophy in Jakarta, where he was also rector from 1988 to 1998 and a former Director of Postgraduate Studies.
Born in 1936, he arrived in Indonesia in 1961 and obtained citizenship in 1977.
He has also been actively engaged in interreligious dialogue. In November 2016, he was awarded the Matteo Ricci International Prize from the Università Cattolica del Sacro Cuore (Catholic University of the Sacred Heart) in Milan, Italy, for his commitment in promoting interreligious dialogue in the country. In August 2015, he received the Bintang Mahaputera Medal from President Joko Widodo for his intellectual input towards national development.
Source: www.ucanews.com
Our Education mission comes from the Christian faith – Fr Arturo Sosa, SJ
(20-Oct-2017)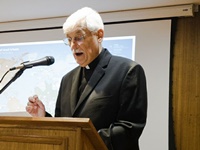 Father General Arturo Sosa says Jesuit schools are a magnificent platform for listening to and serving the youth. Father General said this on 20 October, 2017 in Rio di Janeiro where he addressed the International Congress for Jesuit Education (JESEDU-Rio2017). Addressing the more than 100 Jesuits and collaborators from around the world, Father General reminded them that "Education and schools in particular, are part of the Society's missionary tradition."
JESEDU-Rio2017, Father General said, "is an expression of the thanks we give to God and our benefactors in this area, an affirmation of the importance of the educational apostolate and a push to seek the audacity of the impossible that can carry us even further."
Fr Sosa recalled that his predecessors, Frs. Pedro Arrupe and Peter-Hans Kolvenbach had often stated that the purpose of Jesuit education was "to train men and women for others and with others." He noted JESEDU-Rio2017 was important as it brought together people serving in traditional education institutions and those serving in "new institutional models, born to offer quality education to the poor and excluded, such as Fe y Alegría, Cristo Rey, or Nativity Schools, in addition to the educational services offered by the JRS, enrich the Society of Jesus' educational apostolate in the world."
Father General reminded the participants that "Our mission comes from the Christian faith. It is a service of reconciliation and justice born of the life of Christ, and it must be completed in his way, according to the conditions of our world."
Brief News Archives